"fruit for thought"
Monday, June 07, 2010
I know I have been totally MIA for a really long long time.
Work has drained me, my personal life is a mess and my cat is getting annoying.

Just dropping by here to share a sweet lil' recipe for a very popular drink in cafes which cost you about RM6.90 per glass.
I'm gonna teach you how to make the exact same thing, for way lesser. ;)
It's really simple too, this ain't rocket science.


MANGO LASSI SMOOTHIE
preperation time: approx 15 minutes
TOOLS
- A blender
- Measuring cup
INGREDIENTS
(This serves 4 glasses)
- 3 ripe mangoes (the sweeter the better, then you won't even need to add sugar) - RM2.70 for all three
- 150ml fresh milk - RM2.50
- 4 tablespoons plain yogurt - RM1.60
- 1 cup ice (use the ones in your fridge) - FREE
- 6 teaspoons sugar (just add according to your preference) - FREE (every home should have sugar)
So your total amount for ingredients =
RM6.80
That is way cheaper than having a glass of mango lassi at the cafe, and bear in mind that these serves 4 glasses! That makes it RM1.70 per glass. Subtract that amount from the price and now you know how much cafes actually earn from such an easy-to-make, deliciously nutritious drink.
METHOD
- Cut the mangoes into cubes or slices, whichever works
- Smash the ice into small pieces (unless you have a super blender built for grinding ice cubes)
- Measure the milk to approx 150ml, you can use less if you'd like, about 120ml.
- Just add everything into the blender and blend until smooth.
- Taste check: Use a spoon, taste if it's sweet enough for you, otherwise add in more sugar.
- Once it's done, serve and enjoy.
* You can add in strawberry slices, blackcurrants and etc for that extra boost of vitamin C.
:)
Here's mine, see how thick and creamy the texture is? Yums. :)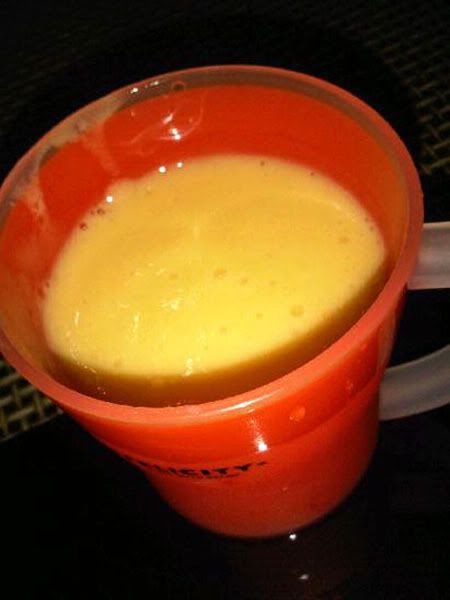 Remember to keep leftovers refrigerated so that they wont turn watery.
Enjoy!
xxx