"impulsive buying can be fun"
Friday, October 01, 2010
I was never a fan of cosmetics.
An eyeliner, sometimes a little blusher and that's all I ever wear.
Even on club nights, I'll just add a dash of eyeshadow, but that's it.

So, I don't know what's up with me these days, I just feel like buying a whole load of cosmetics.
Even stuff that I don't use.
I think I buy into advertising pretty easily. And pretty little packaging.

Yes, now see what Michelle has splurged on this week, on impulse.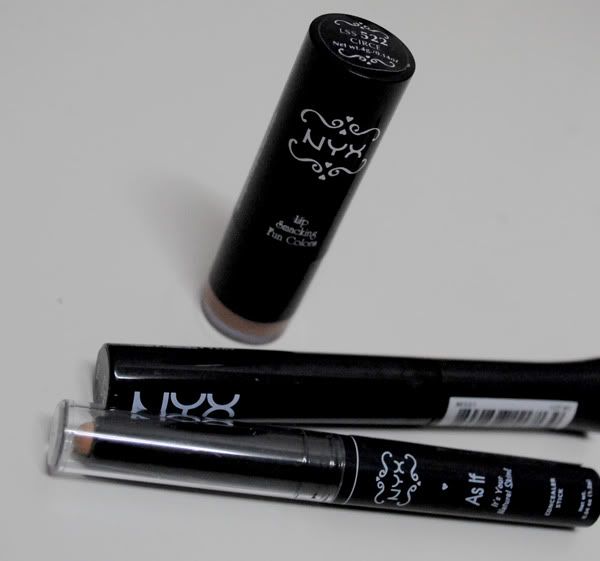 NYX Cosmetics have been something that a lot of people from the US and the Malaysian online community have been raving about. At first I thought it was cos the brand name NYX represents some New York brand but no, Nyx is actually a name of some mythical creature of the dark. But away from that, the products come highly recommended. I never knew so many YouTube-ers have NYX product tutorials and plenty of our Malaysian girls have been buying NYX products via shipping, since it's only available in the US of A.
With them buying in by bulk, it cuts down the prices of the cosmetics, hence they can sell it to us girls much cheaper, if compared to buying it from US and converting the currency.
I was skeptical at first when I saw that NYX Round Lipstick going for RM10.
I thought to myself,
must be some cheap-ass quality cosmetic
.
But I did some research online and decided to try it, since it's only RM10.
Verdict?
It's not something you would call cheap-ass. It's just as smooth and rich as lipsticks from L'Oreal or Lancome. Not up to MAC's standards, but it's nearly as good. Plus, I managed to get the nude shade that fits me perfectly. They have over 50 different colors to choose from too, so choices are aplenty.
After that, I decided to try their Mascara & concealer stick.
Their mascara's not that great but it does it's job. The concealer stick is also not that great, but it blends in nicely with my skin tone, so no complaints there.
I don't know about you girls, but NYX is definitely one of my top faves, for now.
With all that make-up purchases, I decided that the next thing I would need to complete my purchase is to purchase some makeup tools. What you men refer tools to are like hammers and screwdrivers, we call them brushes.
And, I'm a makeup noob, I NEVER knew that there were so many types of makeup brushes.
I swear, I had to Google everything to see how they look like, and how they are used. The art of makeup is pretty complex, so no wonder makeup artists get paid a hell lot of money for what they do.
As a beginner to makeup, I decided to get these brushes they call Ecotools. You can check out their website, again they're only available in the US region or in Australia. Malaysians need to order then online and have them shipped.
Lucky me again, I managed to find this girl who orders a whole bulk load of these Ecotools and sells them for a relatively cheap price. I've checked out other sellers, and their prices are insane.
Okay, maybe it seemed insane to me cos I'm only buying this to try, not for some professional face painting gig. They were selling a set for over RM100, some selling individual brushes at RM65 and so on.
People like me, who only ever use eyeliner daily would not spend over RM50 for a measly brush. Never.
And people hiked their prices up so high because Ecotools are what they call Earth-friendly tools made of eco-friendly materials.
The brush handles are made out of bamboo, as it is a highly sustainable plant.
The ferrule (metal are which holds the bristles), are made out of recycled aluminium.
And the brush bristles are synthetic Taklon and are 100% cruelty free. Which means that their bristles are man-made, without using goat's hair or pony hair which expensive brushes are made of. Taklon seems to be considered a good and easy-to-clean brush type, from what Google says.
So, this girl, out of all the expensive sky-rocket priced sellers, was selling these original brushes for a mere RM35. I swear, a set of 4 brushes or 6 brushes for freaking RM35.
After reading up on all the good things Ecotools seems to be made out of, I decided to purchase a set of 6 brushes from her. Lucky me, it was her last set and she sold it to me for only RM30.
I consider that an awesomely worthy purchase.
I received my items today and I'm super pleased.
The Ecotools came in a lovely packaging, which I simply adore. It's reusable too, plus my brushes come in a roll-up brush holder made out of cotton and hemp. Very eco-friendly. :)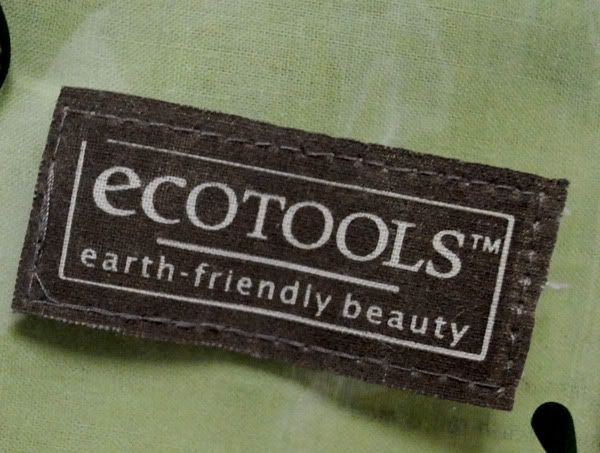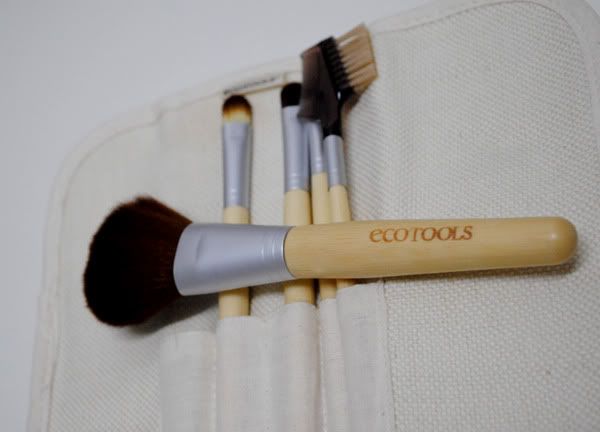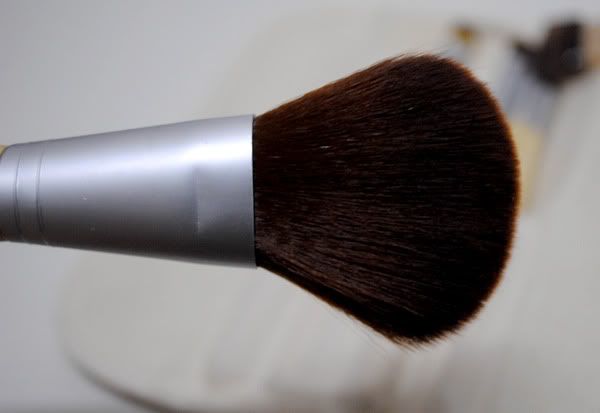 I swear, the bristles are super powdery soft. They feel so nice on the skin. :D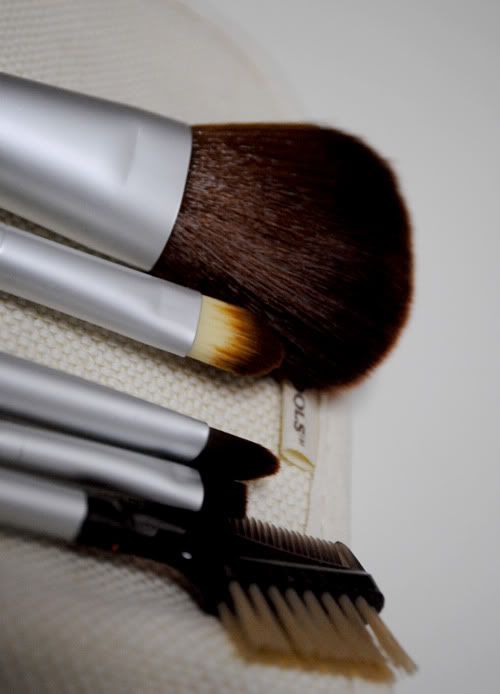 Oh and below here, this is not some impulse buy, I wouldn't be able to afford something like that.
It was a gift, and it's a La Mer Limited Edition Illuminating Powder. It is said to be infused with gemstones and shimmering pearls, which explains why it shimmers alot when applied.
Used only for club nights, not perfect for everyday use, even I know that.
But I love how it comes in a pretty white leather case, in a silver compact with its own soft-bristled brush.
I checked out the retail price and it's RM400 here, but only $95 in the US.
Can you imagine, every puff of powder on my face for every time I use it is gonna cost about RM5.
I really don't understand women who can spend this amount of money on makeup that will eventually be washed off by soap and water.
But while I'm in this hype of buying cosmetics I won't really need, I am checking out another US-born brand which have also been another huge hit with many girls. I will purchase and give you a quick review once I've received them. This is pretty fun. :D
Till then.
xxx